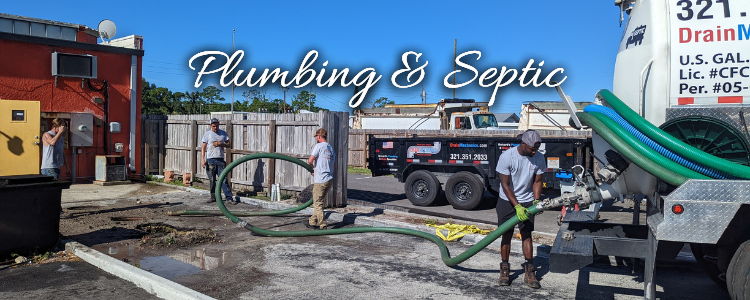 Drain Mechanics has a rewarding career path for all of its employees. Drain Mechanics employees and staff are partners in our company's success. That's why we strive to be one of the most excellent places to work! We have a solid and respected reputation in Brevard County, Florida. We help and encourage employees to develop their skills and take on new roles within their own strengths and strong suits.
Please check out our About Us Page to learn more about Drain Mechanics if you are truly interested in being a part of our team, and our team is family.
Here are the positions offered at Drain Mechanics Plumbing & Septic:
Service Plumber
New Construction Plumber
Commercial Plumber
Plumbing Apprentice
Septic Pump Truck Driver (CDL)
Septic Pump Truck Apprentice
Septic Service Mechanic
Septic Construction Installer
Septic Construction Apprentice
Office CSR for Service
Office CSR for Construction
Managers & Supervisors for Field or Office
Please use the form below to apply for any of the above positions. Please specify the position that you are applying for.
Responsibilities (Depends on the position applying for)
**Once your resume has been reviewed we will contact you to discuss the position details for which you have applied.
Communication skills.  Must be able to direct workers, bid on jobs, and plan work schedules.  Plumbers also talk to customers regularly.
Dexterity.  Must be able to maneuver parts and tools precisely, often in tight spaces.
Mechanical skills.  Choose from a variety of tools to assemble, maintain, and repair pipe systems.
Physical strength.  Must be able to lift and move heavy tools and materials.
Troubleshooting skills.  Find, diagnose, and repair problems.  They also help with setting up and testing new plumbing and piping systems.
Requirements
A Valid Driver's License.
Effective communication and customer service skills.
Service Plumbers will be on an "on-call rotation"
Pump Truck Drivers must have CDL Class B with Tanker's Endorsement
Must be able to effectively lift and move 50lbs or more
Office must be able to type 25wpm or more
Office must be fluid with computers
All field staff must have basic hand and power tools
Septic Construction must be able to operate machinery
Plumbing Construction must be able to read blueprints and design isometric drawings
Perform your job duties safely and responsibly
Service plumbers must be available to work 40+ hours per week
All positions available are full time
Plumbing Construction must know all phases of plumbing
Commercial Plumbers should be trained with gas and larger piping
Please speak with us about the position you are interested in so we may go into greater details
Benefits
At Drain Mechanics Plumbing & Septic we are strong believers that investing in our employees is the best method.  We also care about the health and welfare of our employees and their families, as they are our family too. This is why we are proud of our fantastic employee benefits. Below is everything included as we continue to add to it frequently.
Medical insurance with a Prescription Drug Card
Dental Insurance
Vision Insurance
Paid Training
Life Insurance
401K Retirement Savings Plan
Paid Holidays
Direct Deposit
EEO Statement
We are an equal opportunity employer and all qualified applicants will receive consideration for employment without regard to race, religion, color, sex, gender, age, national origin, veteran status, military status, disability, gender identity, sexual orientation, genetic information, or any other characteristic protected by law.
DFWP
**Please feel free to stop in during business hours and fill out your application in person at 2681 Palm Bay Rd. Palm Bay Fl. 32905
Job Category:
Plumbing
Septic